Skip to Content
Cal Bears, Bay Area Athletes Keep Rolling in Olympic Medals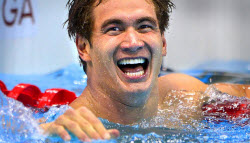 Last Friday, a friend emailed: "If Cal was a country we'd be 11th in the medal count!" And, if we include Bay Area athletes in the tally the ranking would be even more staggering!
Here's an article, Adrian, Vollmer Lead Cal Gold Rush, posted last Wednesday. Then, on Saturday, Nathan Adrian went on to win gold in the 4X100m medley relay with teammates, Michael Phelps, Matt Grevers and Brendan Hansen.
Rewind to last Thursday as we witnessed the U.S. women's rowing team grab gold in the 1500-meter women's eight rowing competition over Canada. It was a back-to-back Olympic Gold and the 7th straight world title for the team. Led by the coxswain, Mary Whipple of Sacramento, CA (whose sister, Sarah is an assistant coach at Cal) and joined by Cal graduate Erin Cafaro of Modesto and Ellie Logan (Standford grad), along with the entire team – shoved their boat first across the finish line. Read the story about Two Area Rowers Help Win Gold. And watch the inspiring post-race interview with the women's eight teams by Michele Tafoya.
Over the weekend, Kerri Walsh of Stanford advanced to the semifinal round of Beach Volleyball with partner Misty May-Treanor. And earlier, Rachel Bootsma and Jessica Hardy of Cal won a gold medal as part of the 400-meter medley relay team, although they did not swim in the final.
Current Medal Count a Total of the Two Bay Area Colleges
Cal: 8 Gold, 1 Silver, 4 Bronze
Stanford: 3 Gold, 0 Silver, 1 Bronze
So, from beach volleyball to diving, rowing, sailing, swimming, and beyond, it's been an amazing Olympics for Cal and Bay Area athletes. Go Cal Bears…Go Bay Area Athletes!