Skip to Content
Ms. Liz Receives Patriot Employer Award for Supporting Our Troops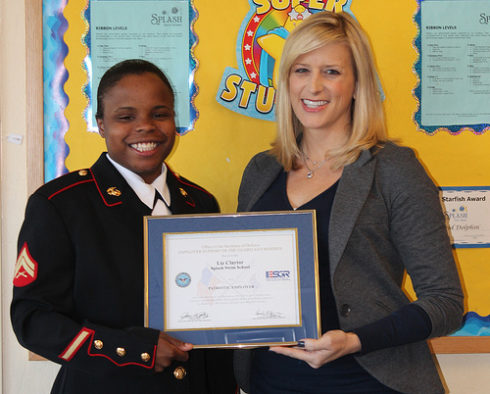 We are feeling rather patriotic at Splash Swim School. Our own LaJoy Toney, a proud Splash swim instructor, nominated me for the Patriot Employer Award. The award is presented by The Employer Support of the Guard and Reserve (ESGR) a Department of Defense agency for the school's commitment to supporting employees serving the United States Armed Forces and Reserve.
Students might not know that Miss LaJoy has another job outside of teaching swimming at Splash. In the National Guard and Reserve, Miss LaJoy serves as a Lance Corporal in the Marine Corps. While she was deployed in Afghanistan, I made sure Miss LaJoy knew that she had a job to return to at Splash Swim School. (Another fun fact about Miss LaJoy– she is an aspiring chef!)
As a businesswoman running multiple swim schools, and a working mom, I am used to juggling many balls in the air. So, as an organization, we try to be as flexible as we can when it comes to working with National Guard members and supporting our military troops. It is the least we can do.
Speaking of part-time workers; the new year has started, and it is back to school for our students, after what we hope was a wonderful Holiday break. Is there something your swimmer has been recognized for in, or out of, the classroom? Leave us a comment on our Splash Swim School Facebook page and share your news with us.