Skip to Content
How One Splash Student's Perserverance Paid Off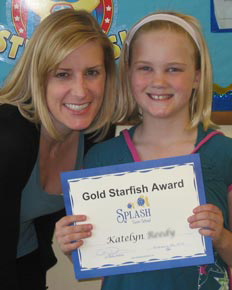 I was signing Starfish Award certificates for our different levels of student graduates a few weeks ago, and one, in particular, caught my eye, as it was for one of my previous students. I was so excited and inspired by this young lady's dedication and inspiration that I wanted to share her story.
Katelyn came to us as a beginner swimmer, a few summers ago. She came in eager to learn, and while swimming to the ten-foot mark came easily, learning to do turtle breaths across the width of our pool was proving to be a big challenge. Like many of our students, Katelyn saw the thirty-six-foot distance as a major hurdle, and her confidence started to waver. I could see her classmates were also feeling a little apprehensive about this new skill, so we worked on increasing the distances slowly. But instead of Katelyn's confidence in her swimming ability increasing with each increment of distance, it seemed to be decreasing. Her apprehension began triggering a fearful "flight" response, and she grew prone to panicking even at shorter distances. I was confident that she had the physical strength to swim the distance with ease, but it was a matter of convincing Katelyn of this fact so that she could stay calm enough to push what she believed to be her limit. It took a lot of time, patience, and a dash of tough love, but slowly but surely, I started to see that comfortable distance increase. Even if her progress was measured in inches a particular week, I considered it an important step towards achieving what she thought was an insurmountable goal. Through it all, I admired her tenacity to keep trying and to overcome those panicky feelings. She always came to class smiling, "Ready to go, Ms. Lizzy", and her hard work paid off!
I remember the first day she swam all the way across by herself, panicking and yelling that she could not do it the last several feet. I walked alongside her, reassuring her that I was right there if she really needed me and that she was just fine. When she got to the wall and climbed out, I asked her to tell me how far she swam by herself, and if I had helped her at all. I saw her look at the wall she was sitting on, look at the far wall, look at me off to the side, and back again. The recognition that she had swum the distance all by herself and through the fear and panic at the end, lit up her face like a spotlight. A grin slowly spread across her face as she replied, "The whole way, Ms. Lizzy", and gave me a high-five. I knew we had turned the corner at that point, and that it would be much easier for her to be confident and in control of those scary feelings from then on. I was a proud swim teacher!
After that, Katelyn's confidence blossomed in the pool, and she was soon eagerly mastering her advanced swim skills. I was not her teacher anymore, but every time she got a ribbon, I got an exciting visit to my office to make sure I was aware of her progress. It is like a whole new world has been opened up for Katelyn. For the past year, our conversations have turned to how she helped her younger sister by explaining the skills to her (now that she is a pro!), and how she was going to be on the swim team soon. I am amazed at how much she has grown up and matured in that time. By the start of this year, she was telling me that she was going to swim in the Olympics someday, saying, "Don't worry, Ms. Lizzy, I will save a ticket for you to come to watch!" Great job, Katelyn, I am so very proud of you and how far you have come, and I cannot wait to see what you accomplish in the future!